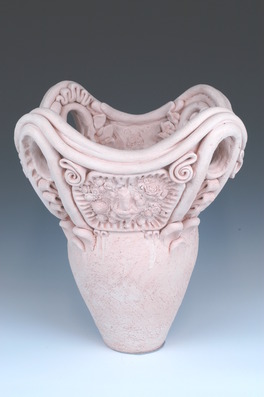 Click to enlarge
Click to enlarge



Jomon Urn

Classification: hand coiled ceramic stoneware cremation urns, funeral urns or funerary urns

Urn #120

This urn was inspired by ancient Jomon pottery from Japan's oldest known civilization. It is elaborately decorated on the top half both inside and out. The bottom half is contrastingly plain.

This urn was inspired by wares made by Japans oldest known civilization, the Jomon (ca. 2500-B.B.C.). One of the most recognizable characteristics of these pots is the swirling, dynamic decoration on the rim. It is assumed they were used for ritual purposes due to this predominance of decoration.The lower half of the urn is very plain, giving rise to the contrasting exuberance of the top. This urn has elaborate additions improvised by the artist. Each side has a panel, both outside and inside, that is embellished with relief created from a variety of small molded objects. The container is basically the lower half of the form that is internally capped with a lid. Jomon ware is traditionally made from earthenware however this urn is handbuilt using stoneware. (Photo #87)

Usually ships with in 23 business days.