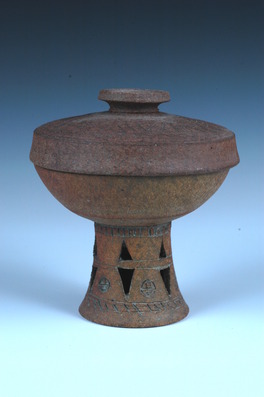 Click to enlarge



Korean Silla Style Jar

Classification: hand thrown ceramic stoneware cremation urns, funeral urns or funerary urns

Urn #128

This piece is a copy of an ancient Korean lidded vessel from the Silla Dynasty. The body and the tall foot are thrown separately and assembled. The lid and foot are decorated with incising and cut-out shapes.

Silla (57 BC - 935 AD) was one of the Three Kingdoms of Korea. This mounted vessel is typical of the distinctive stoneware of this period with the high flaring foot with perforations and overhanging lid. The surface of this piece has a wood-ash style glaze that enhances the incised decoration.

Usually ships with in 23 business days.