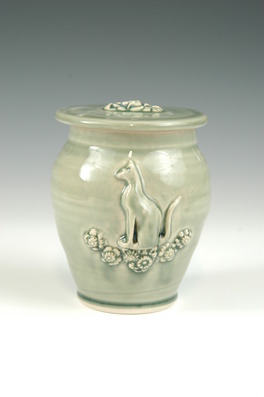 Click to enlarge
Optional Colors
Click on the small photo to set the option

White
Gloss



Kitty Urn

Classification: hand thrown ceramic porcelain cremation urns, funeral urns or funerary urns

Urn #137

We also create customized pet urns. This urn is a small classical urn with sculptural additions of a cat and flowers It is finished in a blue celadon glaze. For kitty urns we generlly make the urn so that it will hold 30 cubic inches.

For some colors you may add an inscription of up to two lines for only $9.90.

This item qualifies for FREE SHIPPING in the US

Other pets can have their own memorials; birds, fish, amphibians, or reptiles. We will be adding a growing variety of pet urns in the future to give you more options.

Usually ships with in 18 business days.