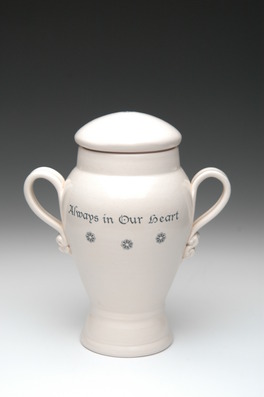 Click to enlarge



Simple Victorian

Classification: hand thrown ceramic porcelain cremation urns, funeral urns or funerary urns

Urn #138

This is a classical urn shape. The foot was thrown seperately and added. The handles were hand pulled and shaped to get this classic Victorian look.

You may add an inscription of up to four lines for only $49.90.
Our inscription process will permanently affix the inscription to the Urn.

The inscription shown is an example. You may write your own.

Usually ships with in 18 business days.