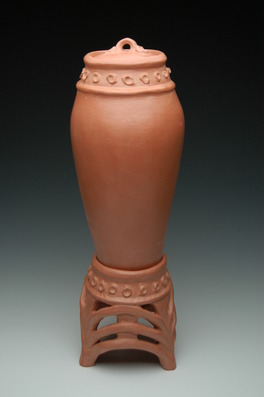 Click to enlarge



Ancient Storage Urn

Classification: hand coiled ceramic earthenware cremation urns, funeral urns or funerary urns

Urn #145

For millenia ceramic vessels have been used for storage. In many ancient

cultures clay vessels had round bases and were intended to sit into the

earth or in a stand. These vessels were also used as funerary urns. This

particular Urn is a combination of a typical Egyptian or Roman storage

vessel with a pedestal form inspired by an African ceramic stand. The

stand is a tripod that reminds me of tree roots growing into the earth.

Earthenware clay is used for both the vessel and the pedestal. A fine clay

slip known as Terra Sigillata is applied in many layers onto the surface

of the piece and then lightly buffed to give it a soft sheen. It is a very

elegant form.

Usually ships with in 23 business days.