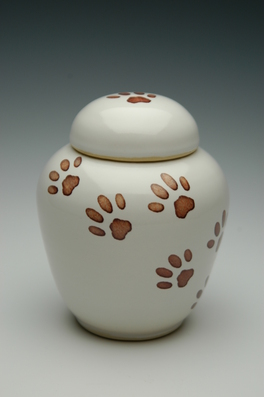 Click to enlarge



Kitty Paw Urn

Classification: hand thrown ceramic porcelain cremation urns, funeral urns or funerary urns

Urn #155

This is a charming fun little Urn with a pattern of kitty paws in memory of your special friend.

The inscription is placed on the opposite side of where the paw images are placed.

For kitty urns we generlly make the urn so that it will hold 30 cubic inches.

You may add an inscription of up to four lines for only $49.90.
Our inscription process will permanently affix the inscription to the Urn.

Usually ships with in 18 business days.