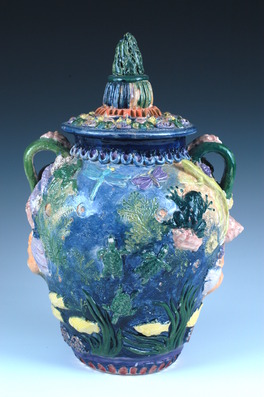 Click to enlarge



Under the Sea

Classification: hand thrown ceramic stoneware cremation urns, funeral urns or funerary urns

Urn #102

This is a Your Vision Through Time Urn. This urn has a classical western European style shape. It is thrown with molded and hand-built additions. The surface is painted with under-glaze colorants and a clear glaze.

This shape is the first urn shape I made for someone. The idea to add molded embellishments to the surface was influenced by old European porcelains of the 1600's thru the 1800's. Their intensely decorative and colorful surface treatment lends itself to using a variety of imagery to reflect someone's personality. The molds of the different objects used are made in the studio from casting plaster so they can be used many times. Small objects that are meaningful to a person can then be used to memorialize their urn. For this urn there is a chosen theme. When working on a custom urn the theme is decided by the customer. The color scheme can also be chosen to reflect a persons own color style. Indicate how you would like it customized in the instructions or indicate that you would to start a dialog through email or over the phone to discuss the customizing.

Usually ships with in 22 business days.