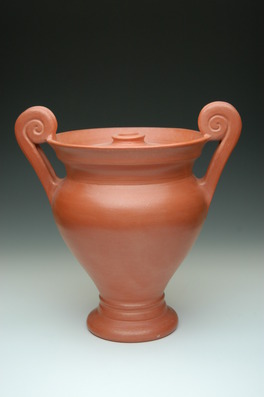 Click to enlarge



Greek Krator

Classification: hand thrown ceramic earthenware cremation urns, funeral urns or funerary urns

Urn #117

The inspiration for this Urn came from the traditional Greek vessel form known as a Volute Krator. It was thrown in three parts and assembled with the addition of handbuilt volute handles. Made of Terra cotta clay.

This Urn is based on a type of Greek vessel known as a Volute Krator, ca.515 BC. As was traditional, it was thrown in three pieces; the body, the neck and the foot. After stiffening the pieces are joined and handbuilt volute handles are attached. These vessels were usually decorated with complex imagery using different colored slips. This peice is intentionally left unadorned to focus on the elegant form. These forms were not customarily lidded so a custom lid has been created to enable the urn to be sealed. A special Terra Cotta clay that has fine particles of Mica is used. The surface is finished with many fine layers of Terra Sigillata, a very fine clay slip, and polished to create a soft sheen.(Photo #80)

Usually ships with in 22 business days.