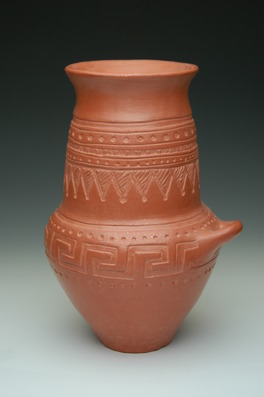 Click to enlarge



Carved Villanovan

Classification: hand coiled ceramic earthenware cremation urns, funeral urns or funerary urns

Urn #141

The form of this urn is based on ancient Villanovan cinerary urns. It is handbuilt from earthenware clay using the coil technique.

Patterns based on traditional Villanovan urns are used for the carved designs. A special Terra Cotta clay that has fine particles of Mica is used to make the Urn. The surface is finished with many fine layers of Terra Sigillata, a very refined clay slip, and polished to create a soft sheen.

Usually ships with in 28 business days.