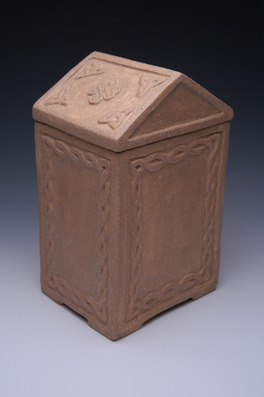 Click to enlarge



Celtic Crypt

Classification: handmade slab built ceramic stoneware cremation urns, funeral urns or funerary urns

Urn #146

This is a hand-built ceramic reliquary box with a traditional Celtic
intertwined pattern framing all four sides.The peaked roof lid is further
embellished with Celtic symbols. It is made from a distinct clay that has
a strong stoneware texture. The Urn is finished with a terra sigillata
glaze that imparts a sandstone or limestone like surface.



You may add an inscription of up to four lines for only $49.90.
Our inscription process will permanently affix the inscription to the Urn.

This urns is 220+ cubic inches and 7" wide 6" deep 91/2" height and 12" at the peak.

Usually ships with in 22 business days.