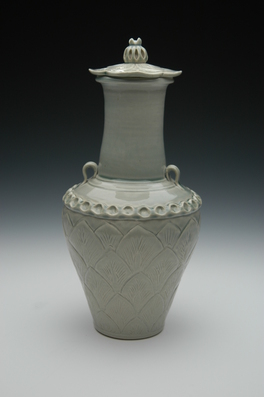 Click to enlarge



Lotus Urn

Classification: hand thrown ceramic porcelain cremation urns, funeral urns or funerary urns

Urn #167

This is a porcelain funeral urn with a delicate hand carved lotus pattern on the body and lid. It is shown with a celadon glaze which enhances the design as it pools in the carved lines showing a deeper celadon blue.

You may add an inscription of up to four lines for only $49.90.
Our inscription process will permanently affix the inscription to the Urn.

You may order this urn in a Keepsake Size which is 45 cubic inches. Or add Keepsake Size urns to your order simply enter the quantity below.

This Funeral Urn is inspired by an exquisite Chinese funeral vase from the Song Dynasty, 10th or 11th century C.E.. It is thrown in two pieces and then assembled. The thrown lid is carved with a hollow openwork lotus bud handle that conatins a porcelain bead. The body is also carved with a lotus pattern that ascends from the base. The lotus is a beautiful eastern symbol for rebirth.

Usually ships with in 17 business days.